View the schedule or register.
(Registration admits you to both the Pastors' Conference and Annual Meeting and also includes childcare signup.)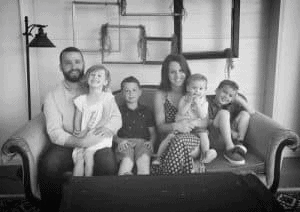 Michael Collins

– Tuesday at 1:30 p.m.
Michael is the Lead Pastor of Mercy's Door Community Church in Mascoutah, IL. Michael and his bride Rachael have been married for 13 years and have 5 kiddos (Noah, Henry, Hattie, Sam, and Jude). Prior to planting Mercy's Door (in 2017) Michael and Rachael lived in the Chicagoland area for 10 years helping to serve and plant the Source Church in Plainfield, IL. Michael did not begin his career in ministry (or even expecting the Lord to call him into vocational ministry) but instead holds a Master's in National Security and Public Administration from Texas A&M University and worked for over a decade in homeland security and counter terrorism.
Daniel Yang

– Tuesday at 2:55 p.m.
Daniel is the Director of the Send Institute, leading and overseeing all of its initiatives. Prior to directing the institute, he planted a church in Toronto where he also helped recruit, assess, and train church planters through the Send Network and the Release Initiative. Daniel has served on various church staffs including Northwood Church, led by Bob Roberts Jr., where he was trained as a church planter and involved in global and multi-faith engagement. Prior to church planting, Daniel was an engineer for eight years. He earned an M.Div. from Southwestern Baptist Theological Seminary, a B.S. in Computer Science from the University of Michigan, and is currently a Ph.D. Intercultural Studies student at Trinity Evangelical Divinity School.
Michael Byrd

– Tuesday at 6:40 p.m.
In April 2013, Michael received the blessing and full support of his pastor to follow the leading of Holy Spirit to plant Faith Community Bible Church in North St. Louis City were they launched on September 11, 2016. Their mission is to make Christ known in the community. Pastor Byrd is married to the love of his life, Traci, who supports him and encourages him to do the will of God. He's also had the blessed opportunity to father four wonderful children: Triniti, Makayla, Michael Jr. and Tyler.
Tony Merida

– Tuesday at 7:40 p.m. & Wednesday at 11:05 a.m.
Tony Merida is Pastor for Preaching and Vision of Imago Dei Church in Raleigh, N.C.
He's also the Dean of Grimké Seminary and Director for Theological Training for Acts 29. Tony has written several books including The Christ-Centered Expositor and multiple volumes in the Christ-Centered Exposition commentary series.
He's happily married to Kimberly, and they have five children.
Jonathan Davis

– Wednesday at 8:55 a.m.
Jonathan Davis is pastor of preaching and vision at Delta Church in Springfield, IL. Jonathan and his wife, Tarah, are both originally from Illinois. Before coming to Delta in 2013, they spent a few years in Louisville, Kentucky, while Jonathan was a student at The Southern Baptist Theological Seminary. Jonathan likes WWII history, the St. Louis Cardinals (Go Cards!), and coffee. The Davises have four children: Rebekah, Jonny, Judah, and Malachi.
Charlie Dates

– Wednesday at 9:50 a.m.
In 2011, at age 30, Dr. Charlie Edward Dates became the youngest Senior Pastor at Chicago's Progressive Baptist Church; a church celebrating a distinctive 100-year history. He earned the Bachelor of Arts Degree in Speech Communication and Rhetoric at the University of Illinois at Urbana-Champaign, and both the Master of Divinity and PhD at Trinity Evangelical Divinity School in Deerfield, Illinois.
(Registration admits you to both the Pastors' Conference and Annual Meeting and also includes childcare signup.)